Introducing the Future of Intelligent Hospitality
Cheng Feng Hao, is proud to introduce a ground-breaking product that represents a leap forward in the field of integrated, intelligent hospitality solutions. This advanced device not only replaces existing hotel call terminals but significantly enhances the hotel guest experience by incorporating a multitude of functionalities, including telephony, a smart voice assistant, and intelligent control terminal, all within one seamless device.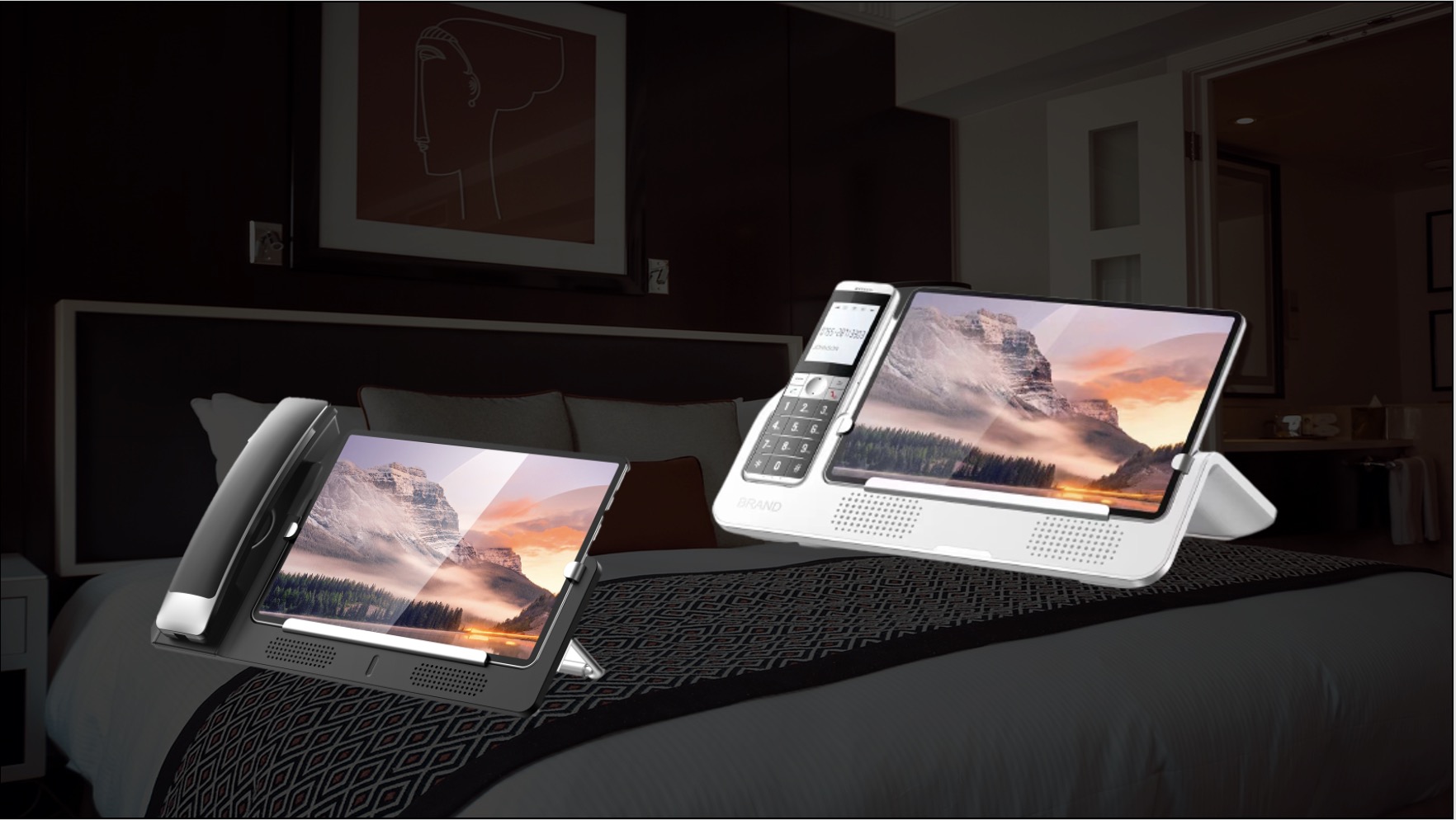 The product incorporates traditional PSTN and VOIP telephony, allowing guests to easily connect with hotel staff or make outside calls, using either a conventional telephone line or through the internet. This remarkable device is equipped with a 10-inch touch screen, and a far-field microphone array, enabling it to effectively capture voice commands from as far as 5 meters away.
Designed with user comfort and privacy in mind, this device features a wireless handset that resembles a Bluetooth earpiece, allowing for private conversations. When used as a loudspeaker, the device allows for hands-free conversations. It also has a built-in battery, ensuring the device can function normally even in the event of a power outage.
With built-in ethernet and RJ11 ports, this device can easily be connected to the internet or a telephone line, respectively. The HDMI out, USB 3.0, and 3.5mm jack on the backside of the device, along with the front-facing USB type-C ports for charging, make this device extremely versatile and user-friendly.
This cutting-edge device from Cheng Feng Hao operates on the Android OS and comes with smart hotel services software developed by the client. This software includes a voice assistant capable of executing various commands, such as calling the front desk, dialing phone numbers, or controlling room devices.
Moreover, the device is engineered to connect with a variety of smart appliances, allowing guests to control their environment with a simple command. It utilizes protocols such as Zigbee and Zwave for device control and can even cast to a TV via wireless casting or HDMI-based casting.
Functionality and ease of use are taken to the next level with top buttons designed for volume control and a ring button to locate the wireless handset. The device can also power on or off through voice commands, notify when the power status changes, and allow control of screen brightness, providing guests with a personalized experience.
In conclusion, Cheng Feng Hao's innovative product is a game-changer for the hospitality industry, providing an unparalleled user experience by combining the best of technology and functionality. Experience the future of intelligent hospitality with this unique offering from Cheng Feng Hao.